Natural slate roofs are not only attractive but hardy and long-lasting. If you use good quality slate from a reputable supplier and install the new roof to a high standard, you should have a roof that will last you for years to come. They're a worthy investment if you plan to stay in your property for a long time or want to add value to a property.
As with any renovation or building project, you'll want to know how much your new slate roof is going to cost. Today, we're going to break down all the different costs involved in installing a new roof, so you can better understand where your money is going.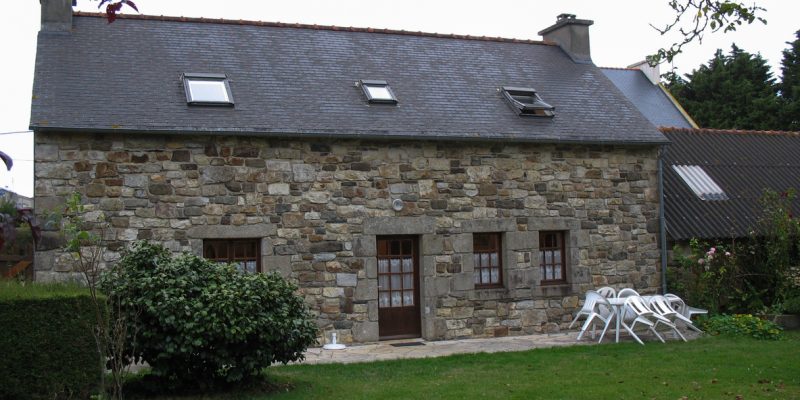 Estimated Costs for a Slate Roof
The cost of your new roof will ultimately depend on the size of the property you're looking to reroof. The greater the roof area, the more slate tiles you need and the longer the project will take to complete. Here is a brief overview of some typical UK house sizes with estimations for the costs associated with installing a new slate roof.
Two-Bedroom Terraced House (approx. 55m2)
Cost of Supplies: £3,500 – £6,000
Labour: £300 – £500 per day
Time To Complete Project: 3 – 4 days
Total: £4,400 – £7,500
Three-Bedroom Semi-Detached (approx. 70m2)
Cost of Supplies: £5,000 – £7,000
Labour: £300 – £500 per day
Time To Complete Project: 4 – 5 days
Total: £5,700 – £8,500
Four-Bedroom Detached House (approx. 100m2)
Cost of Supplies: £6,000 – £10,600
Labour: £300 – £500 per day
Time To Complete Project: 5 – 7 days
Total: £6,900 – £12,1000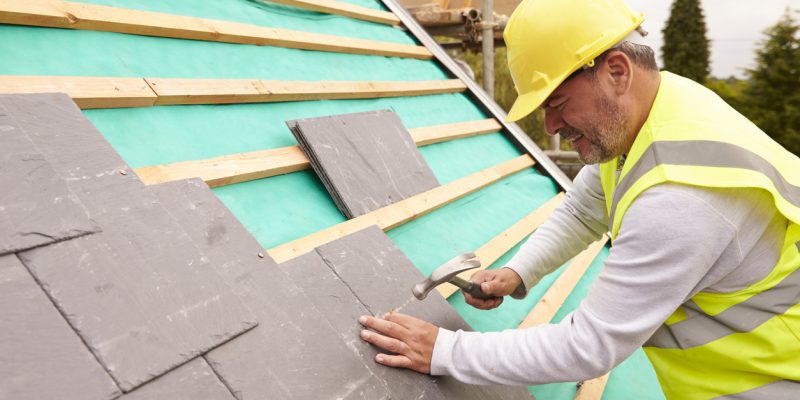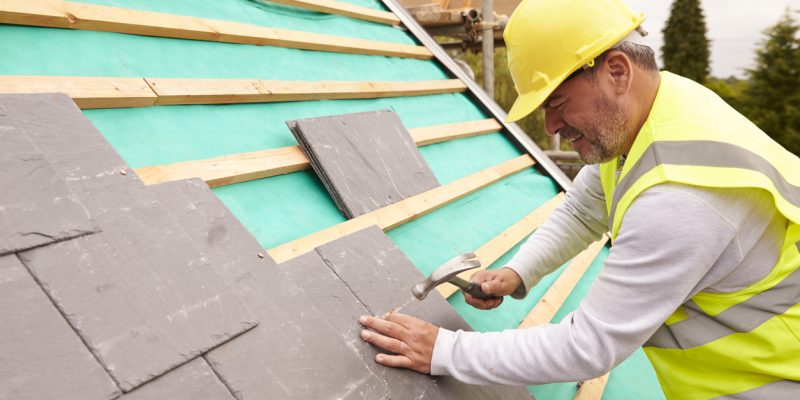 Factors to Consider When Costing A Slate Roof
Beyond labour and supplies, there are some other things to bear in mind that will impact the cost of your new roof. These can include:
Repair, Restoration or Replace
If you're working with an existing slate roof, you may only need to repair or restore damaged or worn sections instead of replacing the entire thing. Replacing sections will be significantly cheaper than laying an entirely new roof, so it's best to have your existing slate roof inspected and assessed before scheduling the work or purchasing supplies.
Roof Shape and Size
Logically, smaller roofs cost less because you'll need fewer tiles, and it won't take as long to lay as a larger roof. The shape of your roof can also impact the project's cost, though, so even if you've got a small roof, if it's awkwardly shaped, this can increase the price. Installing a slate roof on a traditional gable roof should be relatively straightforward. Still, a roof with dormers or valleys will likely cost more, as the work requires more skill and time to ensure a professional finish.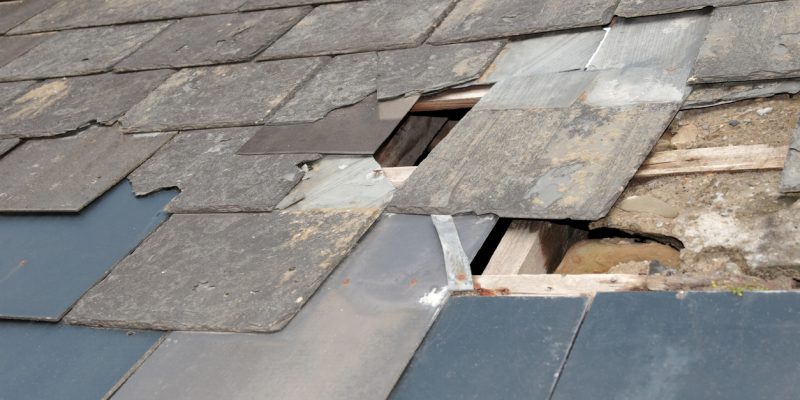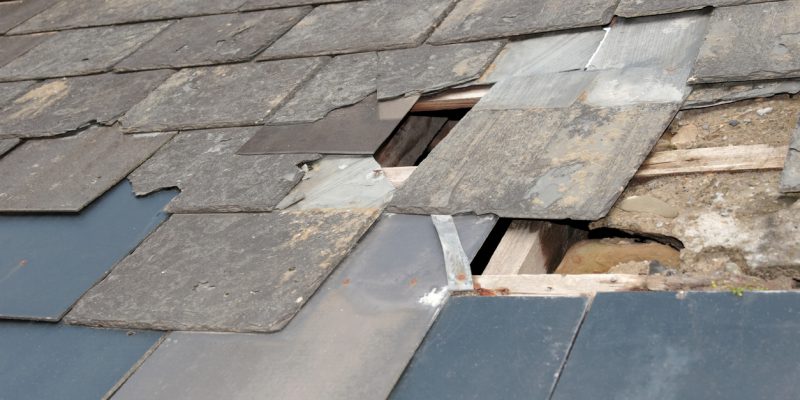 Types of Slate
The type of slate you choose for your new slate roof will also impact the project's cost. Therefore, before doing any calculations, it's best to determine which kind of slate you would like to use to ensure you are working within your budget and costing the project accurately. Slate is usually defined by the place it originally came from, and there are several types of slate from all over the world, including:
Spain is the world's largest producer of natural roofing slate. Spanish slate contained quartz and is notably strong and durable, with a lifespan of approximately 75 years. It is only available in black or grey.
Brazil is currently the second-largest producer of slate in the world. Available in blue, green, cyan and purple, Brazilian slate is robust and long-lasting with high damage resistance.
Welsh Slate is incredibly popular thanks to its durability and water-resistant qualities. It comes in a distinctive grey-blue colour and can last for over 100 years.
Canadian Slate
A similar colour to Welsh slate but featuring more purple tones, Canadian slate is durable, with an approximate lifespan of 75 years.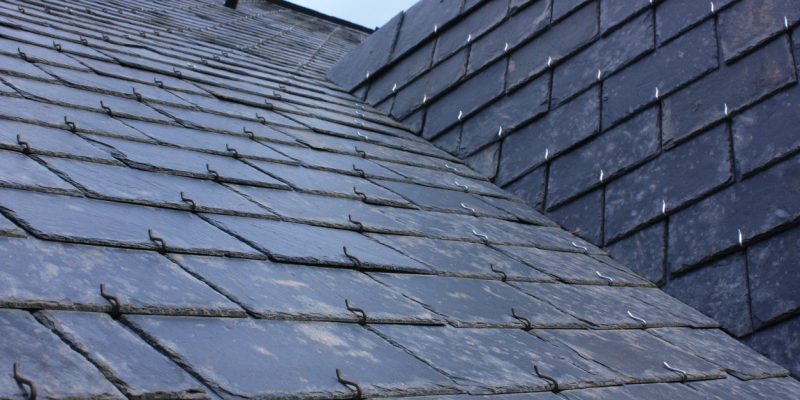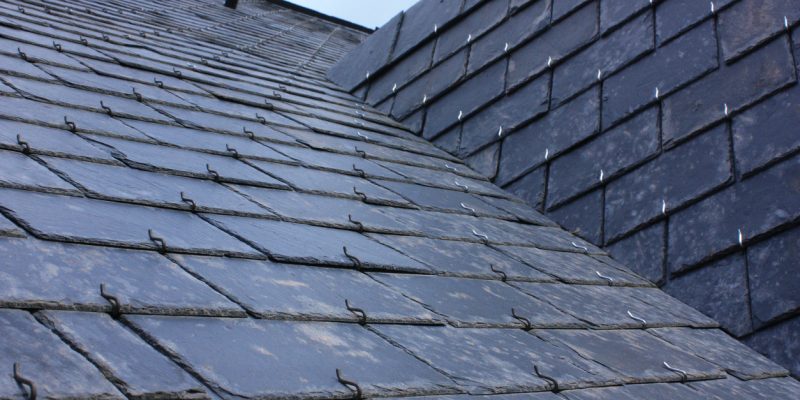 Other Costs to Consider
There are also other costs to factor into your slate roof project outside of the slate tiles and labour. You may need to purchase, repair or replace all or some of the following:
Flashings
Roof flashing is typically a thin metal material roofers install to direct water away from certain areas of your roof, including walls, chimneys and valleys in the roof.
Gutters and Downpipes
You may need to factor in the cost of new guttering and downpipes for your roof if you're working on a new roof that doesn't have any or an old roof where the originals have become worn and damaged. Replacing old flashings will cost roughly £25 – £30.
Membranes and Vapour Barriers
These are sold per square metre, and the total cost will depend on the size of your roof. Breathable membrane typically costs £5 per m2, including fitting, and vapour barriers are approximately £4 per m2.
Roof Battens
The number of roof battens you'll need will depend on the size of your roof and whether you are replacing a roof or repairing specific areas. Roof battens typically cost £22 per m2, including fitting.
You should also account for the cost of fixings and nails, which could be up to £75 for a whole roof.
Scaffolding
Some roofing contractors will include the cost of scaffolding in their quotation, and some won't. So if you're using a roofer who doesn't provide scaffolding, you'll need to source this and account for the cost. Scaffolding hire will cost approximately £700 – £900 per week, and the cost fluctuates depending on where you are based in the UK. You will also need to apply for a license from your local authority if the scaffolding is erected outside of your property boundaries – like on a public pavement, for example.
Skip Hire
If you're removing an old roof, you'll need to hire a skip to make rubbish disposal easier. The cost of skip hire is dependent on your location and the amount of rubbish you're likely to generate. It can cost anywhere between £90 – £390 per week.
There's a lot to consider when considering a new slate roof, but it's a worthwhile investment that will last a lifetime. Here at UK Slate, we supply high-quality natural slate roof tiles, green slate and natural slate floor tiles. So if you're planning a slate roof project, contact us today and see how we can help.