Natural limestone is sourced from limestone rocks that have been quarried and cut into the desired pieces. Then, tiles, slabs and various flooring designs are made from this material to be an aesthetically pleasing and durable choice for both exterior and interior flooring. But why else do people choose limestone flooring?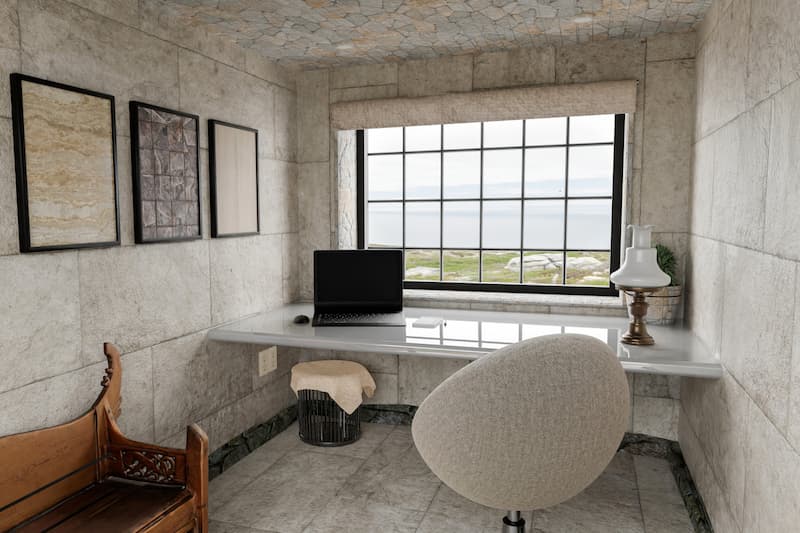 Benefits of Limestone for Flooring
Choosing your flooring material depends largely on where that flooring will be. Some flooring materials are not best suited to being outside, whilst they may be a great choice inside; fortunately, natural limestone covers almost all eventualities.
Limestone is a popular flooring material. Limestone, a sedimentary rock, will have been formed from accumulated calcium carbonate-rich and organic materials like shells and coral. These unique origins create a durable stone where each piece has a one-of-a-kind beauty.
This versatile flooring material is used in a broad range of locations, from domestic homes to commercial properties and even outdoor areas.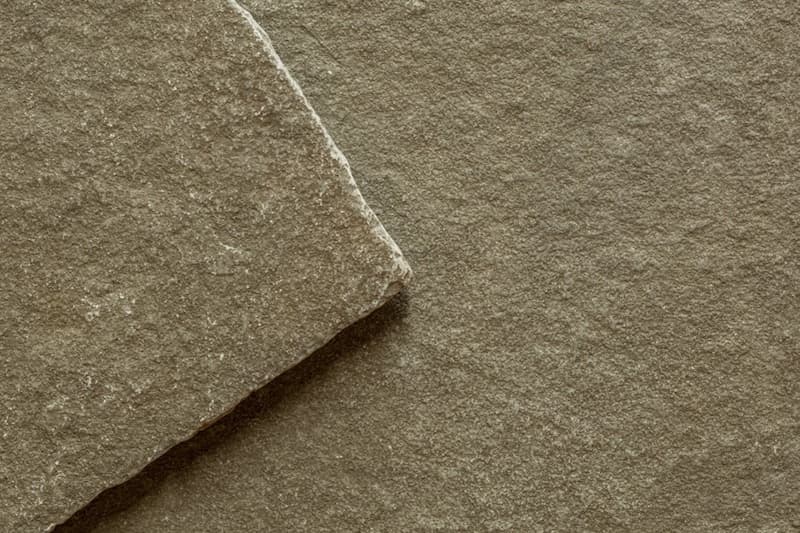 Man-Made Or Natural Limestone Flooring?
Man-Made manufactured limestone is a worse alternative that attempts to recreate the appearance of natural slate. These will be a combination of various materials, and whilst they appear the same aesthetically, many inherent beneficial qualities will be absent.
Most artificial limestone will be cheaper than natural but come with problems. Artificial limestone has less durability than the natural choice, which is a significant problem when using it as flooring. It also will require additional maintenance to maintain the manufactured appearance of natural limestone. We highly recommend choosing natural limestone flooring, as any flooring replacement work will be a significant investment, and the genuine version will provide a much higher return on that investment.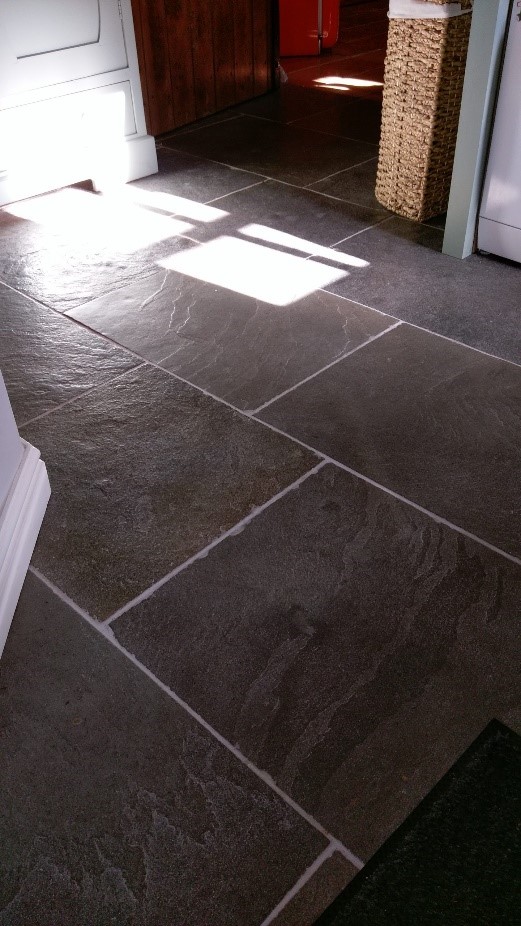 Different Types of Limestone Flooring
Limestone can be formed into any design to suit the location's flooring needs, but the choices don't stop there. There are many different types of limestone for flooring, such as:
Tumbled Limestone
The quarried tiles or slabs are rotated (or tumbled) in a large drum with other abrasive materials. This results in limestone with rounded edges and corners and a naturally aged look. This version is given a textured, weathered appearance through tumbling.
Honed Limestone
Hones Limestone undergoes a honing process that gives the stone a smooth, matte finish. Then, a combination of sanding and polishing creates this clean, modern look that is perfect for various locations.
Brushed Limestone
Brushed limestone has a similar weathered and textured appearance as tumbled limestone but is limited to the stone's large, flat sides. The stone is wire-brushed and sand-blasted to create the desired rough texture and matte finish.
Filled Limestone
Natural limestone flooring is slightly porous, but filled limestone has powers and cracks filled with either epoxy or cement. This results in a smoother surface and an even stronger limestone, making the stone more resistant to staining.
Unfilled Limestones
Unfilled limestone is the title of purely natural limestone. This stone has not been treated or manipulated beyond the required forming into either tiles or slabs. This will be the most authentic choice of natural limestone.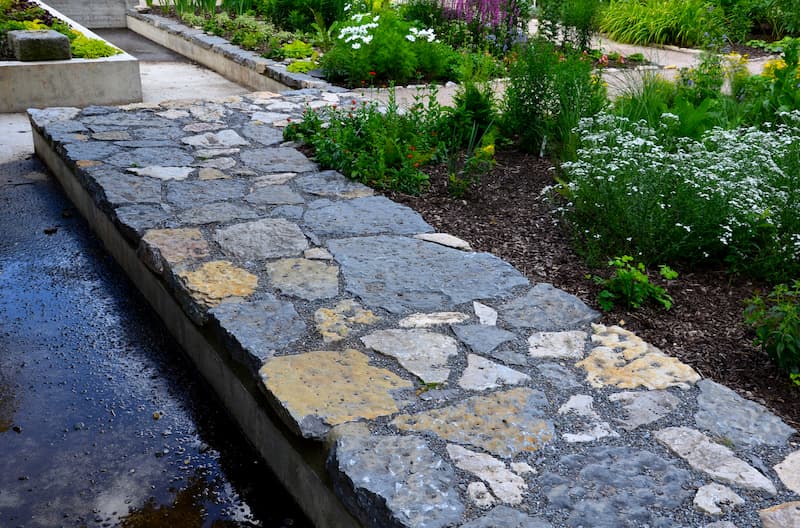 Can You Use Limestone Outside?
Limestone flooring can be utilized outdoors, yes. In many climates, limestone can be used outdoors because it is durable and resistant to the elements. However, limestone is a porous material that can stain or etch when exposed to acidic substances like rain or cleaning products. Utilizing a sealer to protect the limestone's surface is suggested to reduce these dangers. In addition, the flooring may require additional support to prevent cracking or breaking in places with a lot of foot traffic or a freeze-thaw cycle.
Tips For Maintaining Your Limestone Flooring
When choosing your flooring, it's important to know how to keep it in its best condition. Here are some tips for maintaining limestone flooring:
Clean regularly: Limestone flooring should be swept or vacuumed regularly to remove dirt and debris. Mopping or cleaning with a damp cloth can also help to remove any spills or stains.
Use a pH-neutral cleaner: Limestone is a porous material that acidic cleaners can damage. Therefore, it is recommended to use a pH-neutral cleaner designed explicitly for limestone flooring.
Avoid harsh chemicals: Harsh chemicals, such as bleach or ammonia, can damage the surface of the limestone and cause discolouration.
Avoid excessive water: Limestone is a porous material easily damaged by excessive water exposure. Be sure to dry the floor thoroughly after cleaning to prevent water damage.
Use mats or rugs: Placing mats or rugs at entryways can help prevent dirt, sand, and other abrasive materials from scratching the limestone surface.
Seal regularly: Limestone is a porous material prone to staining. To prevent staining, it is recommended to apply a sealer regularly to the surface of the limestone.
Professional cleaning: Consider scheduling professional cleaning and maintenance services every few years to keep your limestone flooring in top condition.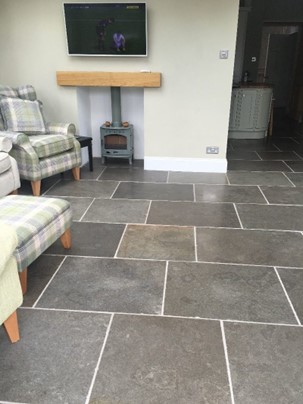 UK Slate: Natural Limestone Flooring Supplier
At UK Slate, we supply a broad range of limestone flooring designs and a range of other natural slate stone tiles for flooring from the most desirable quarries around the world. Artificial alternatives will never beat the inherent beauty of natural limestone, which is why we source all our products from exclusive, natural locations such as Brazil, Wales, Cumbria, Spain, India, and the USA.
Our worldwide partnerships have helped us provide our customers with the finest limestone flooring possible in various styles to suit their tastes. Contact us to discuss which limestone style you need.