Natural limestone is sourced from limestone rocks that have been quarried and cut into the desired pieces. Then, tiles, slabs and various flooring designs are made from this material to be an aesthetically pleasing and durable choice for both exterior and interior flooring. But why else do people choose limestone flooring?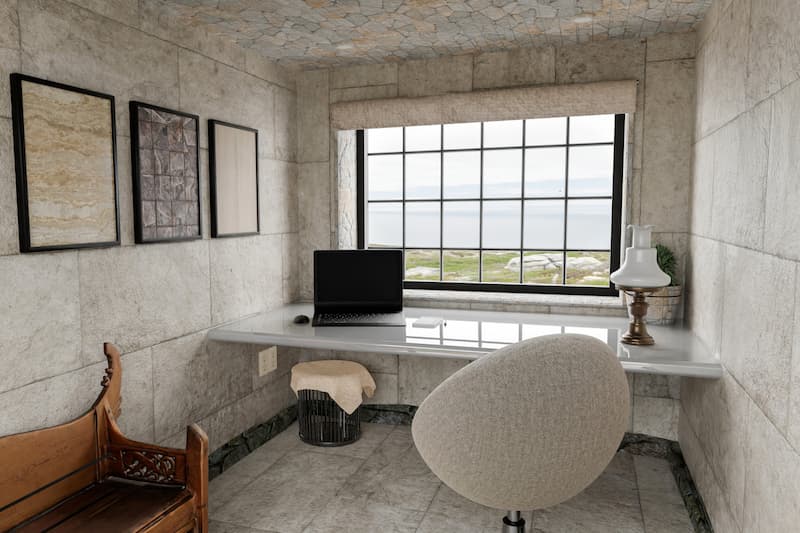 Benefits of Limestone for Flooring
Choosing your flooring material depends largely on where that flooring will be. Some flooring materials are not best suited to being outside, whilst they may be a great choice inside; fortunately, natural limestone covers almost all eventualities.
Limestone is a popular flooring material. Limestone, a sedimentary rock, will have been formed from accumulated calcium carbonate-rich and organic materials like shells and coral. These unique origins create a durable stone where each piece has a one-of-a-kind beauty.
This versatile flooring material is used in a broad range of locations, from domestic homes to commercial properties and even outdoor areas.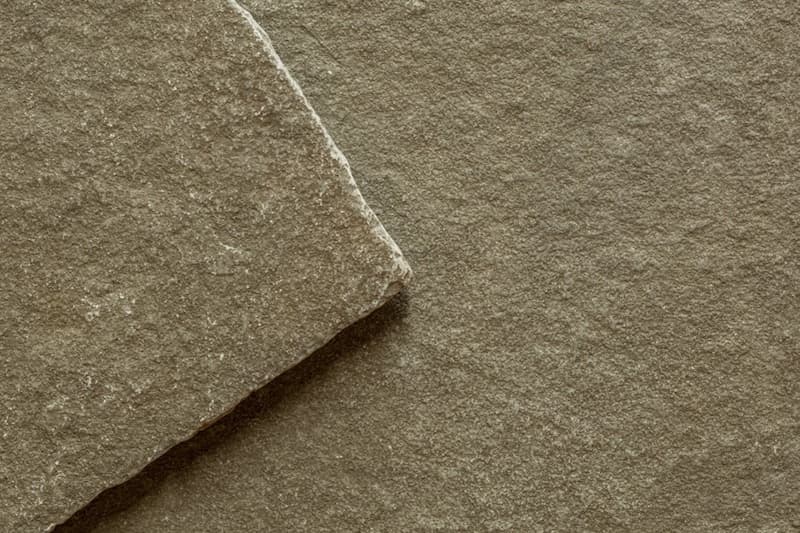 Man-Made Or Natural Limestone Flooring?
Man-Made manufactured limestone is a worse alternative that attempts to recreate the appearance of natural slate. These will be a combination of various materials, and whilst they appear the same aesthetically, many inherent beneficial qualities will be absent.
Most artificial limestone will be cheaper than natural but come with problems. Artificial limestone has less durability than the natural choice, which is a significant problem when using it as flooring. It also will require additional maintenance to maintain the manufactured appearance of natural limestone. We highly recommend choosing natural limestone flooring, as any flooring replacement work will be a significant investment, and the genuine version will provide a much higher return on that investment.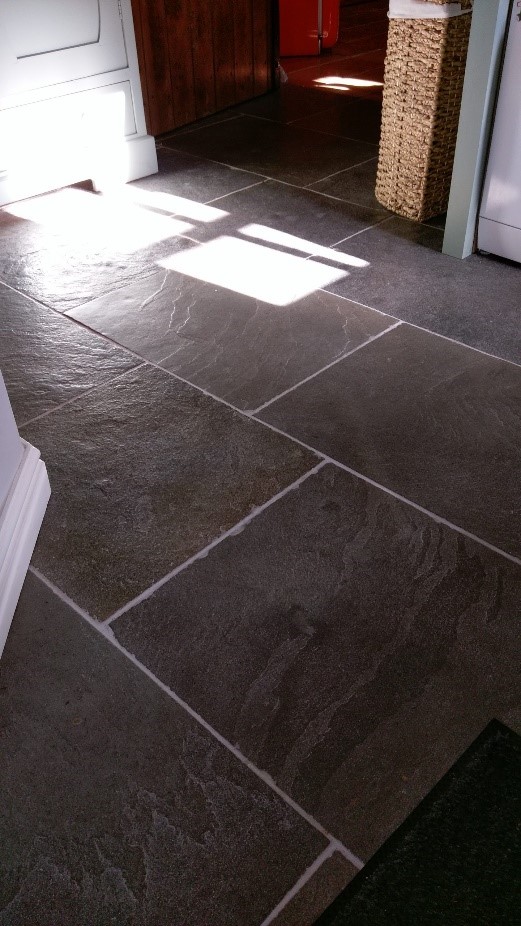 Different Types of Limestone Flooring
Limestone can be formed into any design to suit the location's flooring needs, but the choices don't stop there. There are many different types of limestone for flooring, such as:
Tumbled Limestone
The quarried tiles or slabs are rotated (or tumbled) in a large drum with other abrasive materials. This results in limestone with rounded edges and corners and a naturally aged look. This version is given a textured, weathered appearance through tumbling.
Honed Limestone
Hones Limestone undergoes a honing process that gives the stone a smooth, matte finish. Then, a combination of sanding and polishing creates this clean, modern look that is perfect for various locations.
Brushed Limestone
Brushed limestone has a similar weathered and textured appearance as tumbled limestone but is limited to the stone's large, flat sides. The stone is wire-brushed and sand-blasted to create the desired rough texture and matte finish.
Filled Limestone
Natural limestone flooring is slightly porous, but filled limestone has powers and cracks filled with either epoxy or cement. This results in a smoother surface and an even stronger limestone, making the stone more resistant to staining.
Unfilled Limestones
Unfilled limestone is the title of purely natural limestone. This stone has not been treated or manipulated beyond the required forming into either tiles or slabs. This will be the most authentic choice of natural limestone.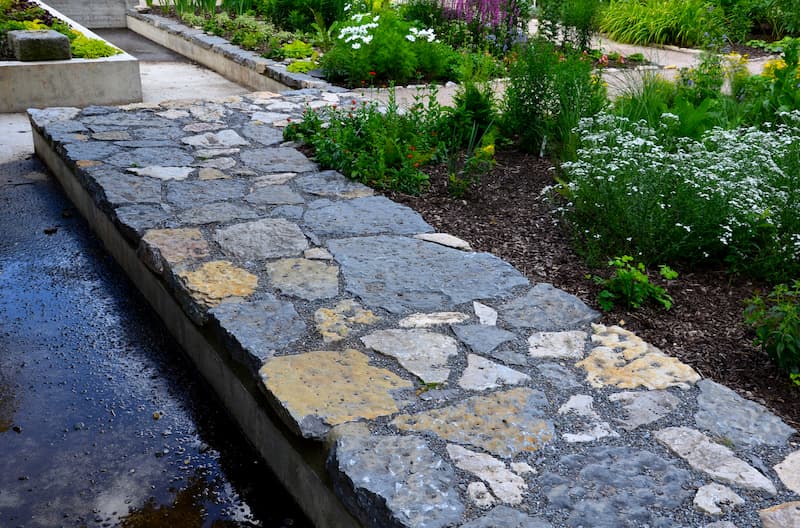 Can You Use Limestone Outside?
Limestone flooring can be utilized outdoors, yes. In many climates, limestone can be used outdoors because it is durable and resistant to the elements. However, limestone is a porous material that can stain or etch when exposed to acidic substances like rain or cleaning products. Utilizing a sealer to protect the limestone's surface is suggested to reduce these dangers. In addition, the flooring may require additional support to prevent cracking or breaking in places with a lot of foot traffic or a freeze-thaw cycle.
Tips For Maintaining Your Limestone Flooring
When choosing your flooring, it's important to know how to keep it in its best condition. Here are some tips for maintaining limestone flooring:
Clean regularly: Limestone flooring should be swept or vacuumed regularly to remove dirt and debris. Mopping or cleaning with a damp cloth can also help to remove any spills or stains.
Use a pH-neutral cleaner: Limestone is a porous material that acidic cleaners can damage. Therefore, it is recommended to use a pH-neutral cleaner designed explicitly for limestone flooring.
Avoid harsh chemicals: Harsh chemicals, such as bleach or ammonia, can damage the surface of the limestone and cause discolouration.
Avoid excessive water: Limestone is a porous material easily damaged by excessive water exposure. Be sure to dry the floor thoroughly after cleaning to prevent water damage.
Use mats or rugs: Placing mats or rugs at entryways can help prevent dirt, sand, and other abrasive materials from scratching the limestone surface.
Seal regularly: Limestone is a porous material prone to staining. To prevent staining, it is recommended to apply a sealer regularly to the surface of the limestone.
Professional cleaning: Consider scheduling professional cleaning and maintenance services every few years to keep your limestone flooring in top condition.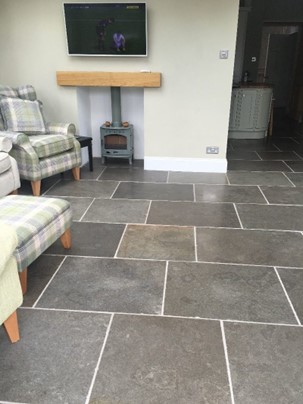 UK Slate: Natural Limestone Flooring Supplier
At UK Slate, we supply a broad range of limestone flooring designs and a range of other natural slate stone tiles for flooring from the most desirable quarries around the world. Artificial alternatives will never beat the inherent beauty of natural limestone, which is why we source all our products from exclusive, natural locations such as Brazil, Wales, Cumbria, Spain, India, and the USA.
Our worldwide partnerships have helped us provide our customers with the finest limestone flooring possible in various styles to suit their tastes. Contact us to discuss which limestone style you need.
Natural slate is a material that has been embraced as a way to improve any premises, whether it be with landscaping, roofing or interior improvements. Few materials will surpass the inherent beauty of natural slate tiles, and it's not even limited to domestic uses only.
Using slate, whether in your home or commercial property, can give you a lot of benefits. After all, this stone can be used for the outside, such as for the exterior walls of your home or the roof, or indoors to create a beautiful design you can be proud of at all times.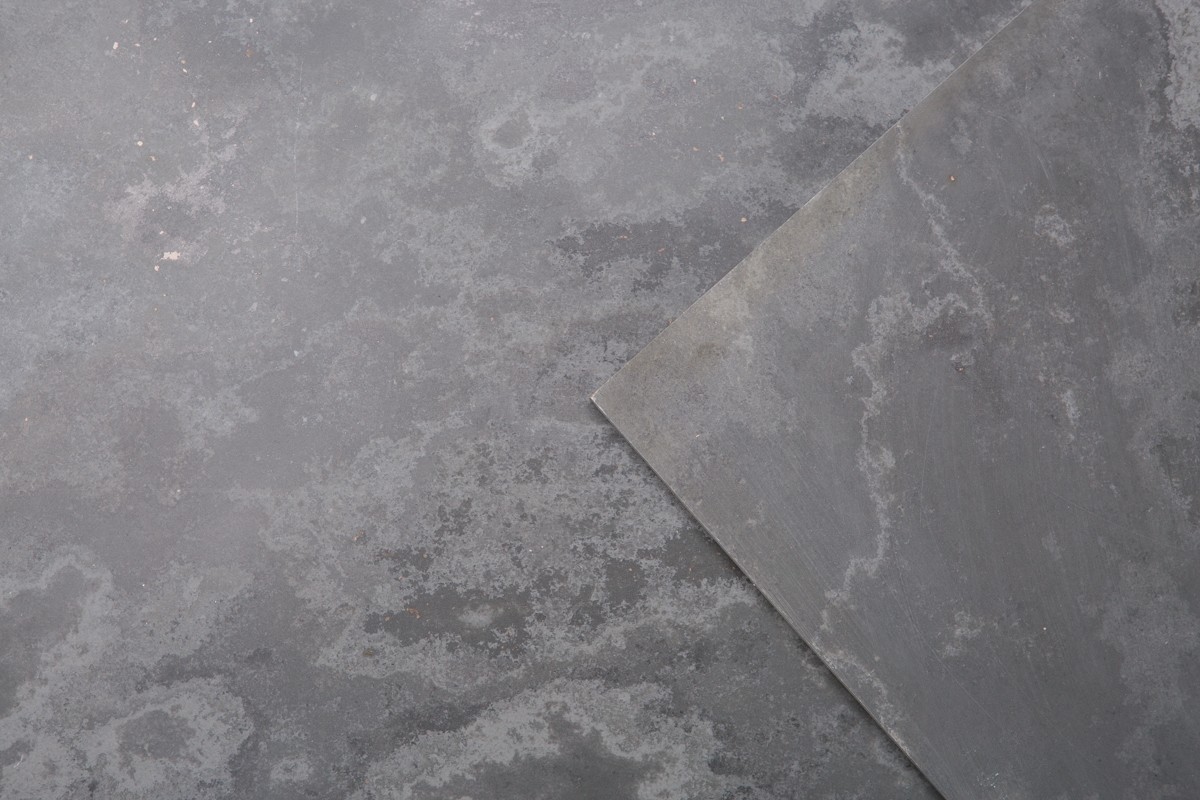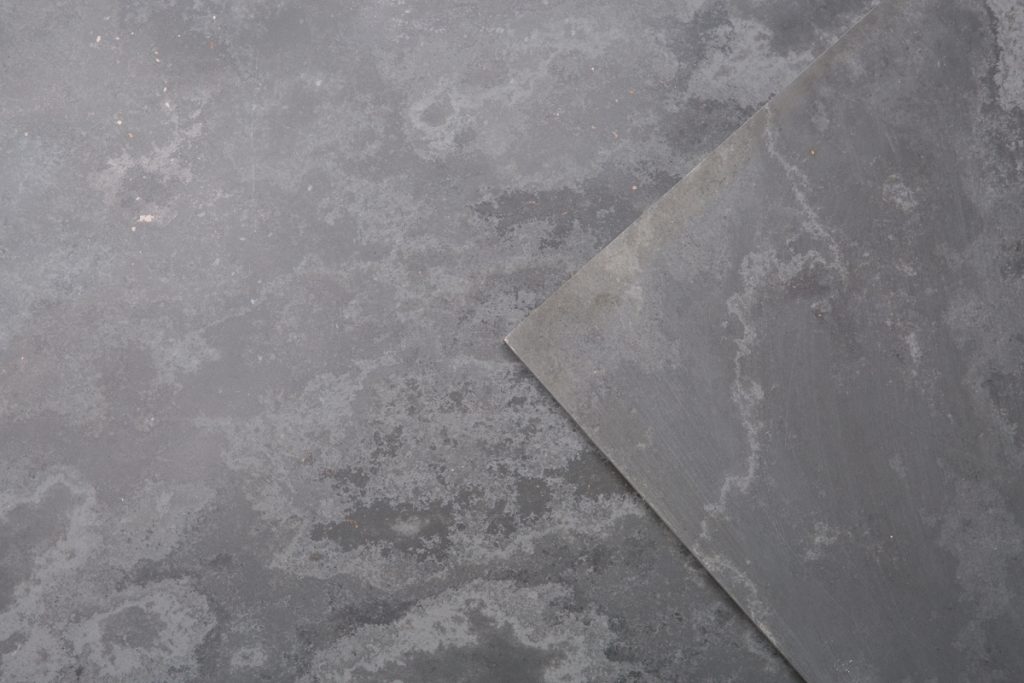 Handcrafted Slate
Slate is a highly versatile stone capable of being used in an extensive range of applications, and it's widely regarded as a natural stone that offers sophistication and style to any design. One of slate's most remarkable features is its ability to be adapted and worked to your specific needs, meaning you can add a unique, authentic look to your home or business if you opt to use this natural stone.
Slate for Interiors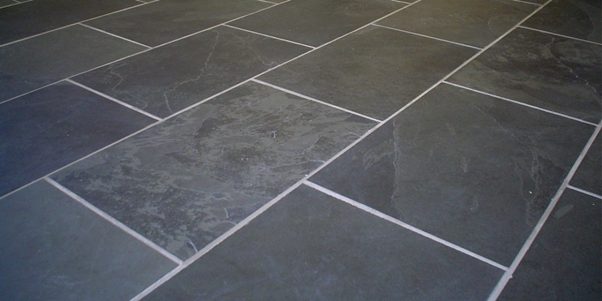 At UK slate, we embrace the beauty that natural slate provides while working to ensure that our customers are able to implement their slating in the exact way they wish. There are plenty of options when choosing a natural slate. This versatile material can be manipulated into many sizes and be supplied in a variety of colours.
Slate's Natural Aesthetics
This natural stone can provide beautiful designs that add style and beauty to any room – however, this feature begs the question, 'what makes slate so aesthetically pleasing?' Its natural appeal, as well as the honing process it goes through, greatly contributes to this characteristic.
When the tiles are machined to a honed flat finish, the process involved cuts through the minute undulating layers within the slate and can create a billowing cloud effect. This is because the honing procedure enhances the variations of shade within the stone, sometimes leaving plain tiles, other times beautiful swirling patterns that are unique to each tile. This flexibility is perfect for creating a wide array of designs, whether you intend for them to lean towards the traditional or the contemporary style.
Case Study: Central London Slate Design
This capacity to create bespoke designs is what makes slate one of the best materials to work with and why one of our customers chose to use it in one of their latest projects in Central London, in which they undertook a complete bathroom and wetroom designed by an internationally renowned Japanese architect.
We used Elterdale Grey Green Honed Slate in a 400mm x 400mm format so that the tiles, both on the shower walls and the bathing area, had a smooth, matt surface with natural colour variations to them. For the base of the shower area, they used the same Elterdale Grey Green slate but in a Riven finish, which has a natural hand-split texture. This was to give a contrast to the different areas within the room but also to provide a safe, slip-resistant finish underfoot.
In order to meet the client's very specific requirements and timescales we decided to take advantage of slate's inherent properties, such as its durability and versatility, we ensured that the bathroom would be completely unique in appearance. We also hand-produced special rounded edge tiles for around the inset bath surround. Therefore ensuring a unique finished effect whilst providing clean and safe edges around the inset bath.
Slate can be tailored to fit your particular project. It also allows you to choose between an extensive range of styles, as well as shapes and forms, and be guaranteed a stunning and unique design. If you'd like to learn more about our bespoke slate ware and how it can benefit interior spaces such as a bathroom or a roof with our durable ridge tiles, or our Vermont slates, feel free to talk to us on 015395 59289. You can also speak to us to find out more about how our various slates could improve your existing premises.
Slate is an excellent material for your roof tiles. When maintained, it can not only protect your roof but look great at the same time.
So, Learning how to lay slate roof tiles is an important skill when repairing or replacing a slate roof; and, if done correctly, will save you time and money on your roof maintenance. Please read our following guide to learn everything you need to know about laying slate roof tiles. Laying a slate roof can seem like a daunting job, but with careful patience and suitable materials, it can be done efficiently and to a high standard. There are three main steps to follow:
Laying your underlay
Fixing the Battens
Settings out your slates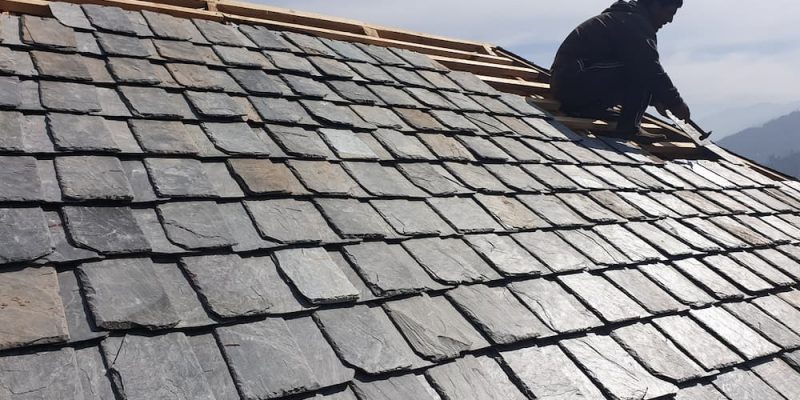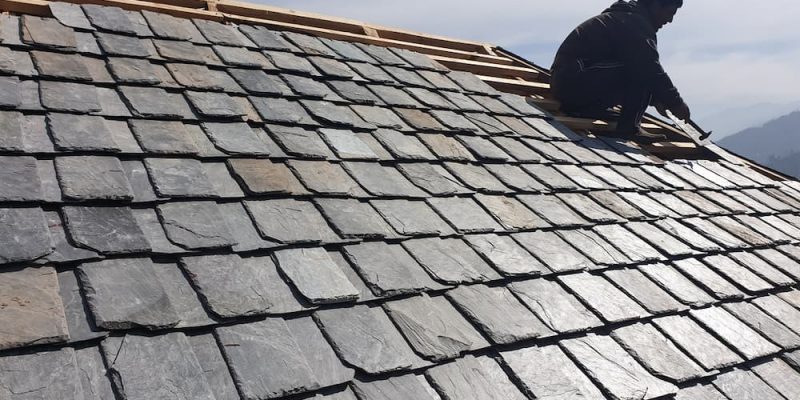 Safety procedures
When conducting any roof maintenance, you should always be aware of correct safety procedures. Performing home maintenance without regard for proper safety is a dangerous idea that could lead to personal injury or at least cause more damage to your home.
When working with Roof Slates, you should take time to put protections in place. Scaffolding is the best access method, but keeping the ladder fixed firmly to the side of the house will do if you're only repairing a small section of your roof. An additional hook ladder would be helpful, but this will be explained later. Having a volunteer spot the bottom of the ladder while you work is essential.
Find some adequate clothing and footwear. Rubber-soled shoes and thick gloves are a good start. In addition, wearing a hard hat and a coat with thick sleeves will give you the best protection in case of any accidents. Purchasing some plastic goggles will also give you excellent eye protection when working with slate.
Slate tiles are incredibly durable but are dangerous to walk across. The slope angle on most roofs means you could easily slip and fall, so you should take care when walking across them. Older slate roofs can be particularly concerning as they may be more fragile.
Having a hook ladder comes in handy here—this type of ladder hooks over the Ridge tiles at the peak of the roof. The hook ladder allows you to distribute your weight between the ladder and the roof. It is essential that you gradually distribute your weight evenly when walking on a roof.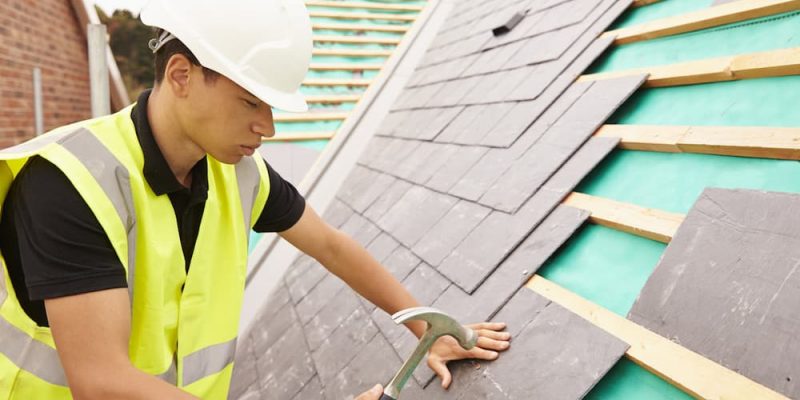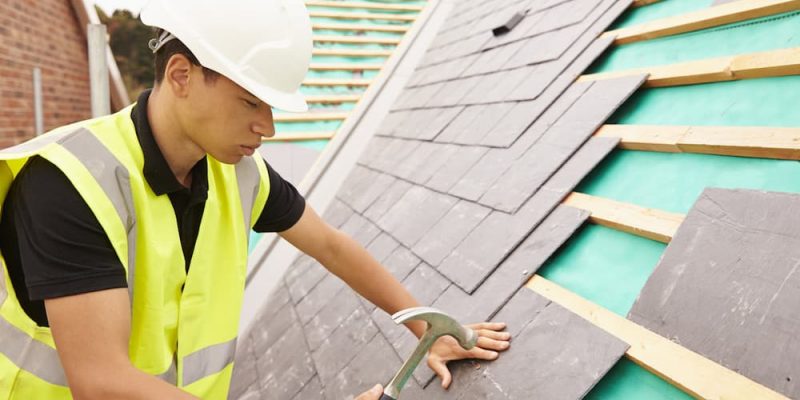 The Roof Underlay
The roof underlay is sometimes referred to as membrane or underlayment. Regardless of the name, they all do the same thing. Essentially your underlay will keep any moisture from penetrating the tiles and entering your building.
You should check the rafters for any old nails or debris that could damage the underlay before your roll it out. Once you are satisfied, you can begin laying your underlay. Start from one side and move across the roof, ensuring it's flush against the verge. Nailing the start of your roll down will help keep the underlay in place as you move across the roof.
You can nail the underlay again along the middle, but this isn't strictly necessary. Instead, nail the underlay again once you've reached the other side of the roof to secure it in place.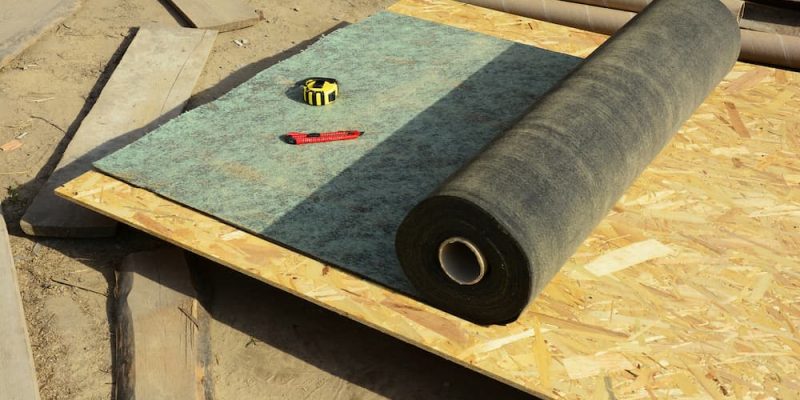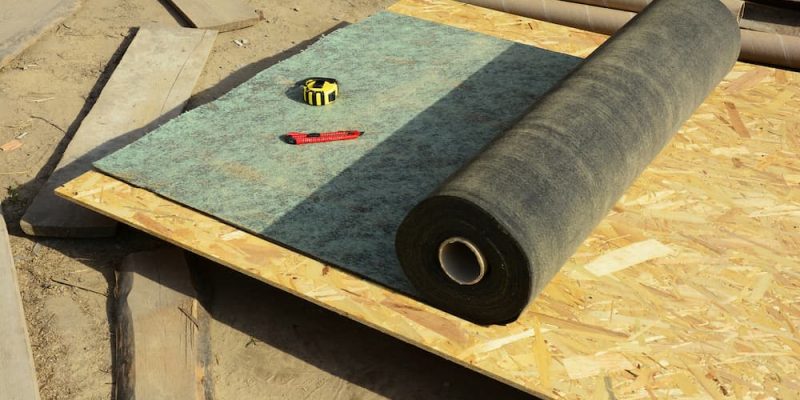 Fixing The Roof Battens
Now you have your underlay in place; you need to place your first battens. You will also need one under eaves slate tile and two full-sized stale tiles to proceed.
Place the battens on the roof but don't fix them down yet. Then place one of the full-sized slate tiles on the batten and allow a 50mm overhang. Finally, fix the tile to the batten using temporary fixings.
The second batten will go beneath the slate tile near the first batten. Next, place the eaves slate tile into the second batten whilst making sure the eaves slate reaches the bottom edge of the roof.
A third batten is fitted below the top of the slates. Take the other full-sized slate tile and place it centred on the top of the third batten.
By fitting these initial three, you can now calculate your batten gauge. Then, measuring from the top of one batten to the top of the one next, you can figure out where the rest of the battens should go.
Setting Out And Laying Slate Tiles
To figure out how to set out your tiles correctly, we recommend drawing a chalk line from the ridge to the eaves at the width of every slate. Remember to allow a 5mm gap for the joint between each slate and the battens. This guide will ensure you don't make incremental mistakes as you make your way across the roof.
It would be best if you lay your under eaves tiles first. Begin with a one-and-a-half slate to create a staggered pattern. Your first fill-length slate should be placed with its tail in line with the under eaves before nailing it in place.
Begin at the bottom and work upwards when placing your slates; bottom right to top left is recommended. This will help you avoid standing on slates as you place them and reduce any risk of slips or breaks.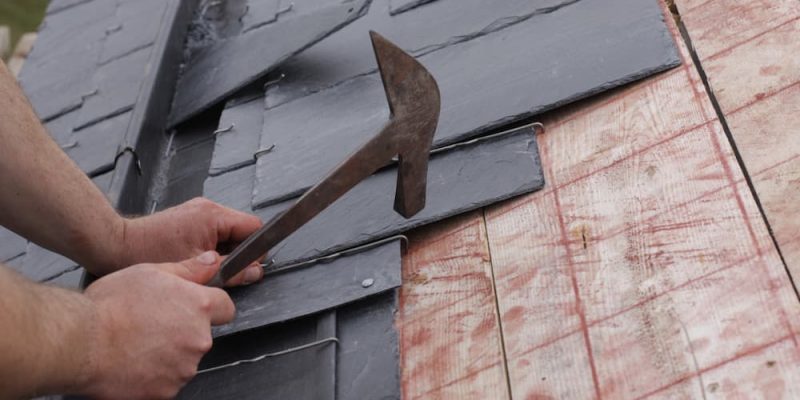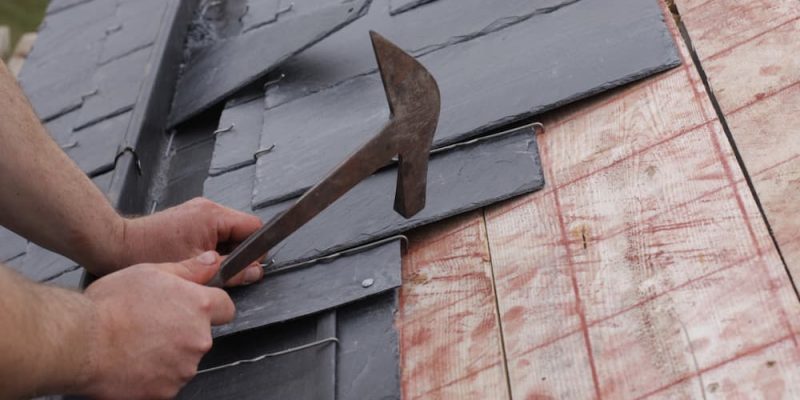 Premium Slate Roofing Tiles
Slate roofs are popular for many reasons, offering a classic aesthetic alongside an impressively durable lifespan. In addition, they can look vintage while being brand new, an excellent choice for buildings in cities or natural landscapes.
At UK Slate, we specialise in offering a fantastic range of natural slate roofing tiles. In addition, we can import North American, Spanish slates, Vermont slates and Welsh roofing slate and many more. So please get in touch with our expert team to discuss how we can help you with your roof slate needs today.
Slates provide natural beauty to flooring, making the material a popular choice for many rooms, like kitchens, bathrooms and living rooms. Slate is super durable and aesthetically pleasing to look at, but it can require a little work to keep it looking fantastic.
If you're concerned about damaging your tiles while cleaning, here's a general guide on how to clean your slate tiles so you can keep them in the best possible condition.
Sweep/Vacuum
You need to keep your slate floor clear of dust, dirt and debris before it can be adequately cleaned. It will make the job easier and make the overall cleaning much more effective. Dirt that contains tiny stones and particles of soil could also cause scratches or abrasions on your floor, so it's important to get rid of them as soon as possible.
Use a soft-bristled broom or a vacuum with a soft attachment and go over the floor to give it a thorough clean. Get in all the corners and crevices to ensure all the debris is picked up. Make sure you don't accidentally use attachments meant for carpets, as these can scratch the floor.
Mop the Floor
When mopping your natural slate flooring, make sure you're using a proper slate cleaner or a mild dish soap. Using products with harsh chemicals could cause damage or alter the appearance of your slate tiles, so take care with your chosen cleaner. Mix it with plenty of warm water to dilute it.
Dip the mop into the cleaning solution and wring out the excess water. Start at the top of the room and work outwards, using smooth strokes to clean the entire floor. Dip and wring your mop periodically to wash it, and if the water is starting to get dirty, consider changing it for some fresh, clean water.
You can use a steam mop to help pick up extra dirt and disinfect the floors for a deeper clean.
Teak Oil
Wipe or leave your floor to dry, then you can finish it off with some teak oil. Teak oil can help enhance the final appearance of your floor. Apply a thin layer with a soft cloth but don't soak the slate tiles, otherwise they will begin to absorb the oil. Slate oil can also be used.
Removing Stains
If your slate floor has stains, it may need more careful attention than just a general clean. Here are the steps to dealing with stains:
Wipe spills immediately – as soon as a spill occurs, wipe it up so it doesn't sink into the porous surface. Use a cloth or towel.
Mild detergent – dip a cloth in a mild cleaning solution and gently rub the stain to remove it.
Hydrogen peroxide – this contains a mild bleach that can remove stains without damage. Use equal parts water and hydrogen peroxide and apply to stain and leave it for ten minutes. Scrub with a brush or sponge and rinse with water.
Rubbing alcohol – this can be effective at removing stains. Combine rubbing alcohol with plenty of water, soak a sponge and work the stain until it is removed.
Removing Scratches
Slate can become scratched, which can add a level of character to the surface, but too many or too deep scratches can ruin the floor's beautiful aesthetic. There are a few techniques that can remove or hide scratches from a slate floor's surface:
Mineral oil – clean and dry the area and work it with mineral oil on a cloth. The darkening effect will help hide minor scuffs.
Stain pen – this can be used to match the scratch to the colour of the slate. Clean and dry the area and wipe the pen on the scratch and wipe to blend the scratched area into the slate's surface, matching the colours.
Sanding – fine-grit sandpaper can be used gently to achieve a polished look and remove scratches. Wipe away dust with a damp cloth afterwards.
Your slate floor needs a regular clean to keep it in tip-top condition. It should be swept a few times a week and mopped once a week to keep it nice and clean. When your slate floor is clear of dust, dirt and debris, you minimise the risk of scratches occurring, so not only does a clean floor look great, but it will last longer.
At UK Slate, we can provide you with a vast range of slates in a variety of colours and styles from quarries across the world, including right here in the UK. If you'd like to learn more about our range of slates, including our ridge tiles or our green slate, do not hesitate to contact us.
Considered colour choices, the clever use of light and the strategic use of shapes can make smaller rooms look much bigger with tiled surfaces.
When space is limited in a bathroom, kitchen or living area, the right choice of floor tiles can make a big difference. Natural slate floor tiles are a durable and practical option for flooring – its natural beauty and subtle variation convey an elegant impression of openness.
The contrasting colours, patterns and textures of slate create visual breaks. As no two pieces of stone or limestone are the same, a slate tiled floor makes for a unique arrangement which is pleasing to the eye.
Some carefully chosen furniture, and neat fixtures and accessories to accentuate the lines of a small room, will open up a slate tiled space even further.
Slate Tiles – Large Or Sm all
Larger tiles can create the illusion of extra space, while smaller tiles such as mosaics or those with intricate geometric patterns can make an area look too busy or cluttered.
Large tiles have traditionally been used in public or commercial spaces because it is quicker and cheaper to cover a big area with broad pieces. But the clean, sleek and stylish lines that can be achieved by mixing and matching medium and large tiles are particularly fashionable just now.
The number of regimental grout lines, spaced close together when using small pieces, can create a grid-like appearance which feels closed in. Wider lines lead the eye further and create a more seamless flow.
Go Lighter To Look Larger Or Darker To Create Depth
Lighter colours will help a small room look larger as they reflect more light. Pale greys, faded greens or browns with swirls of creams can open up a space, and you can continue the effect by matching the wall tiles with the floor pattern. Colours like pale blues and greens hark to surfaces in the natural world such as water and grass, which make us feel cooler and relaxed.
Neutral colours provide a warm and clean feeling in the room which looks inviting. A matte finish, such as that naturally created in slate, don't show up so much dirt and water stains. So long as they're sealed with a high-quality sealant, they will remain easy to clean while giving a slight sheen to the surface.
Alternatively, darker coloured floor tiles visually create an illusion of depth. A very light floor can reflect light from all angles to create a confusing image in the mind and actually make a small space seem even smaller. Dark colours work best with a lighter grout colour to offer a subtle highlight to the tiles themselves.
Accenting lighter colours with darker ones works extremely well to create a cosy finish to spaces and neatly define the edges of flooring and wall tiles.
The Shape Of The Layout Matters
How you choose to layout your chosen floor tiles plays a big part in the feelings of space within a smaller room.
Diagonal lines lead the eye further to create a feeling of length. However, diagonal designs that are too closed in or complicated can make the floor feel too busy.
Alternatively, brick bond patterning (where joints are offset in each row) can create a more expansive feel to the floor tile layout. There are lots of standard brick bond patterns used in the building and construction industry, so you can pick a template which appeals and follow the patterning as described.
Consider an emphasis on the horizontal to make a narrow space appear wider. Vertical lines can create a more formal appearance which can also be useful in smaller rooms with low ceilings to give an overall impression of height.
Cleverly Connect To Adjoining Areas
If you seamlessly connect a smaller room to the bigger and wider areas it sits next to, you can help to create a feeling of more space.
If you're connecting two tiled rooms, you can achieve a feeling of flow by continuing the tiling through with a continuous pattern of grout from one room to the next. A big border effect between two rooms will grab attention and make the smaller room look even smaller.
You don't have to match colour choices exactly between rooms, but a cohesive palette will make your home feel like it was all well designed and thought out to guide you, your visitors and the eye on a seamless journey around it.
Accessorise With Care
Some people tend to think that a piece of furniture or a rug in a small room will make it feel even smaller, but that does not need to be the case. A carefully positioned chair or well thought out rug placement will create a more expansive feeling if there is notable floor space around the piece.
Small rooms also need clever storage solutions which don't take up too much floor space. Alcove and corner shelving can round off the room's edges to continue smooth lines upwards and outwards. In bathrooms, the use of mirrors adds extra reflected light to create a more expansive feel.
All in all, clever grout colouring and floor slate pattern design will help your room "grow" spatially and stylishly. Flooring is often the biggest "flat" space in a room, so a little careful thought can turn your small, quaint space into a large living area.
Slate is an aesthetically beautiful stone that has been used in construction for centuries. They make fantastic roof tiles, able to provide excellent insulation for a home and withstand harsh weather conditions, but they can also be used inside the house as floor and wall tiles. Slate comes in a variety of naturally occurring colours and styles, making it an incredibly versatile material.
But where do these slate tiles come from? How do they go from being mined out of the ground to the tiles on our roofs, wall and floors? Well, here's what you need to know about the step-by-step process or mining this natural, raw material and turning it into the tiles we know and love.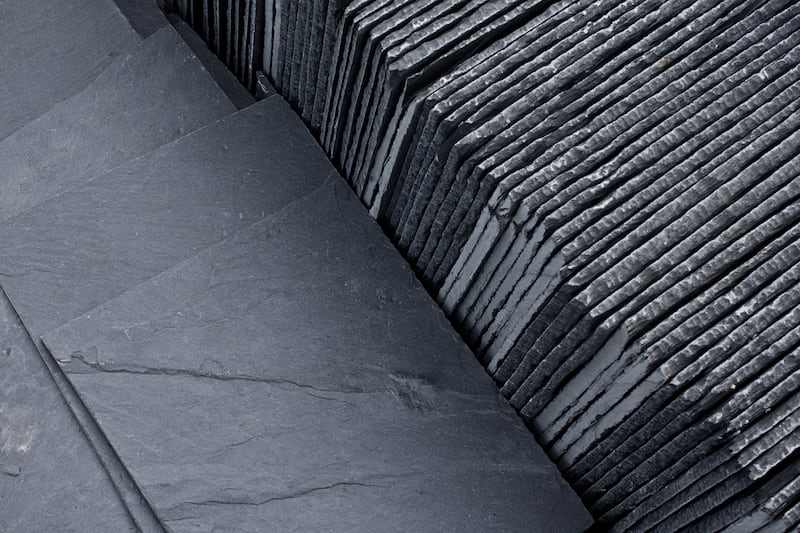 Testing
Before the process can begin, quarry sites need to be surveyed and tested to ensure they are appropriate areas to extract the material from. The quarry rocks need to be tested to ensure they are strong enough and suitable for their end-use. The tests are done to discover if there are any weak rock layers that will be detrimental to the stone's end quality.
The stone will only be extracted from the quarry for use when the tests have verified the quality and purity of the slate.
Quarrying
The raw slate is then sawn from the quarry in large flat slabs using a diamond beaded steel cable – or sometimes detonation is used, but this is done at a minimum to keep slabs large and prevent material loss. The extraction must be done carefully and with precision, as the process can affect the material's integrity.
Once the slabs are free, they are transported to factories to transform them into tiles.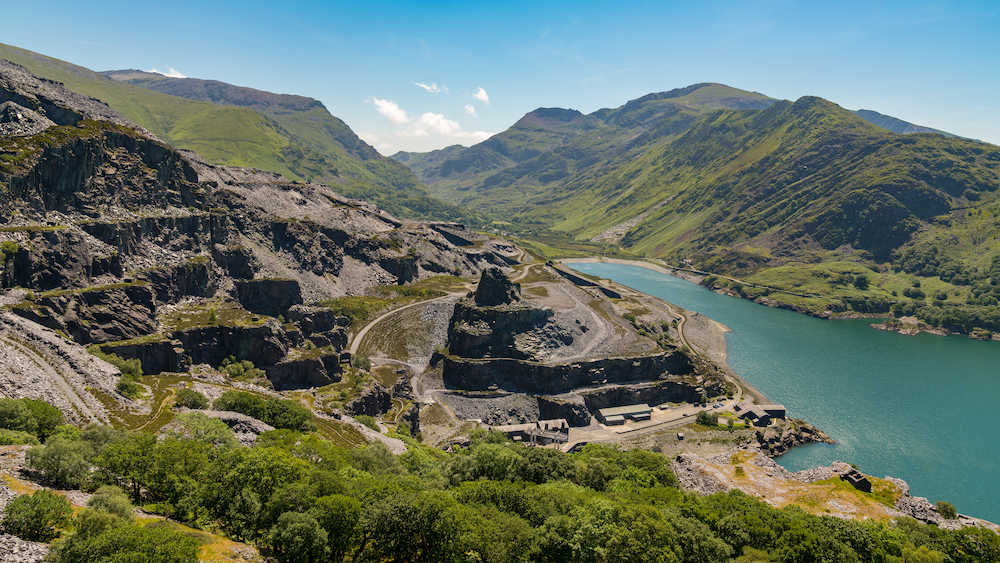 Slab Cutting
Using diamond-tipped blades, the slabs of slate are then cut into more manageable pieces. During this process, impurities are also removed from the raw material without the use of harsh chemicals. The cuts are then inspected for their end-use. Most slate will be used for roofing, while a portion will be allocated for architectural use. Slate destined for architectural use will need to be of the finest quality and have large dimensions.
Splitting
The slate cuts are then sent for splitting, where they will be split down to a specific thickness, a process which is done by hand. This technical step of the slate processing process has been done for many centuries.
Splitting is a specialist process that splits the slabs into the correct thickness while maintaining the material's integrity. The slabs are split where a natural break occurs in the slab to give it a clean, straight split.
Trimming
Split slates are then ready to be trimmed to a specific length for its chosen purpose. Traditionally trimming was done by hand, but nowadays machines are used to trim the slate to perfect measurements for installation.
After the process is finished, the slate will go for a final inspection where the slabs will be sorted and classified for use. Slate for roofing will be stacked onto pallets for storage. Architectural slate for panelling, tiles, counter-tops and chalkboards etc., will go through various processes before it is completed. The slate will be gauged and then honed to various finishes and may even be flamed to give it an even textured finish that removes traces of the saw blade and any irregularities.
Once the slate has been completed and stored away, it can be delivered across the country and the world for its intended purposes. Here in the UK, we have a variety of slate quarries across the country, including in Wales and the Lake District.
Different parts of the globe provide different slate varieties, as the colour is determined naturally by the geological conditions at its formation, which varies from place to place. Wales is known for its stunningly beautiful variety of blue slates.
Here at UK Slate, we are specialist slate importers and exporters of natural slate from across the globe. We only source the very best globally and domestically thanks to our links to independent quarries, ensuring consistent and reliable supplies. We pride ourselves on our top-notch customer service and assure the very best support for you and your project.
You can browse our extensive range of slates on our website. Whether you're looking or
slate roof tiles
, wall tiles or floor tiles, we will have something for you. Contact us today to find out more.
When you think about the roof of your home, the last thing you want to worry about is whether it will stand the test of time. However, not all roofs will last throughout your lifetime.  If you're moving into an older property that hasn't had a new roof for decades, it might be something you need to consider sooner than later.
Old, damaged roofs can cause damp and mould to grow in your home and could eventually lead to roof collapse if left in a dire condition. So, it's vital you know roughly how long your roof has got left before you need to think about maintenance or an entire replacement.
Here's what you need to know.
What Can Impact Roof Longevity?
The life of your roof can be impeded or improved by a number of factors, including:
Installation quality – if the roof was not installed by experts or a shoddy job was done, that can shorten your roof's lifespan.
Quality of materials used – cheap roofing materials won't cost you as much initially, but they will need to be replaced more frequently and that will be more expensive in the long run.
Environment – roofs can be affected by exposure to high winds, extreme temperatures, and debris, so where you live will have an impact on how long it lasts.
Type of roofing material – roofs can be made of a variety of different materials, and they all have varying durability, so how long your roof lasts will depend on your chosen roofing material.
The type of roofing material used is an especially important factor when determining the lifespan of your roof. Knowing which materials provide the longest lifespan can also help you make the best choice for roofing when you need to get a new one installed.
Different Roofing Materials
Asphalt
Asphalt is used to make roofing shingles and is a common roofing slates materials as is very affordable and easy to install. Asphalt roofing shingles are made from either paper fibre mats or fibreglass that has been impregnated with asphalt and coated with mineral granules.
These shingles can be expected to last from around 15 to 40 years, depending on the quality of materials chosen, the installation and the environment the roof is exposed to. You can maximise the lifespan of asphalt shingles by avoiding cheap shingles and keeping them clear of debris where possible.
Metal
Metal roofing is a common option found in commercial, industrial, and agricultural buildings, but can also be used for housing. They are popular in areas prone to wildfire danger due to their resistance to fire damage.
Metal roofing often takes the form of roofing sheets that is laid in panels with the seams overlapping along the roof slope. These types of roofs are easy to maintain and are very durable against the elements. They have a lifespan of around 30 to 50 years, which puts it far ahead of asphalt shingles, although some homes may not be suitable for metal roofing. To increase their lifespan, they should be subjected to regular checks and maintenance to ensure the fasteners and sealants haven't failed.
Clay
Traditional tiles are made from terracotta clay, but you can also get ceramic tiles made of fired clay. These are a popular choice due to their aesthetics, but they require sturdy roofing and framing to hold the weight.
When properly maintained, you could see clay roof tiles last for up to 100 years or more. These tiles are very hardwearing, but they are susceptible to cracks. When cracks occur, the damaged tiles should be replaced as soon as you spot them to prevent any damage from worsening.
Slate
Slate is a variation of a stone roof where the roof is covered with natural slate tiles that have been mined from quarries. Slate has a natural tendency to split into flat slabs, making it an ideal material to use for roofing. It can be more expensive than other roofing materials, but it is the most durable one of all and can last your home a lifetime.
Slate roofing tiles can easily last 100 years and far more, demonstrated by the fact that there still stand historical buildings dating back hundreds of years with their original slate roofs intact. Like the clay tiles, any broken slate tiles should be replaced as soon as possible to maintain the longevity of your roof.
Slate also has the advantage of looking truly beautiful, with the vast range of styles and the stunning natural colours that occur in the rock.
At UK Slate, we can provide you with a vast range of
roof slates
in various colours and styles, suitable for many different roof types and properties. If you're looking for
natural slate, 
green slate
or
roofing slates
, contact UK Slate today to find out more.
Slate is a naturally occurring, beautiful material that has been used in construction for centuries. It is an incredibly diverse material, able to create both a rustic and contemporary look for a property, depending on how it is utilised.
Cost-efficient and high performance, slate tiles are perfect for a wide variety of projects, for both floor tiles and roof tiles. Here's a look at all the reasons you should choose slate for your next project:
Amazing Durability and Longevity
First of all, slate lasts a really long time. When you get a new roof or floor installed, you want the reassurance that you won't have to redo it again in a few years. Well, slate can last well over 100 years and is one of the most resistant materials to use for a roof.
Its durability and longevity make slate an excellent investment that will keep your home warm and insulated for your entire lifetime. At UK Slate, we only supply slates which attain the A1, T1 and S1 BSEN standard for water absorption, carbon content and thermal cycling, so you can rest assured that our slate is strong enough to withstand any harsh weather conditions.
Environmentally Friendly
People are more conscious about their environmental impact these days, so you'll be pleased to know that slate is an environmentally-friendly choice. Occurring naturally in nature, slate is an eco-friendly material at all stages of its lifespan. It is one of the most sustainable material options for any construction project.
Very Affordable
Slate is a surprisingly affordable material. While it may not be the cheapest option out there, its longevity makes it a very cost-effective option due to it not needing replacing in your lifetime. Slate also requires little maintenance and repairing during its lifetime so you will save costs in the long run. Invest a bit more now in slate tiles, and you will experience the financial benefits in the future when you don't have to pay for a new floor or roof in your lifetime.
Good for Health
Slate is completely natural, it is extracted from quarries and does not require any additional treatment with chemicals, unlike a lot of other materials. The simplicity of the extraction process does not require any artificial materials, meaning that slate is a sustainable material that is better for people's health. Slate is a healthy building material that won't bring any unnecessary furnace or chemical products into your home.
Low Maintenance
When taken care of, a slate roof can last upwards of 100 years. Fortunately, the maintenance required for slate is minimal, so you won't be expected to do too much. A simple yearly check is enough to ensure that no slates are cracked or broken, and these can be replaced if necessary.
Fire Resistant
Unlike other roofing materials, slate is completely fire resistant. The formation of slate occurs when rock layers are exposed to extreme pressure and heat, and these forces render slate extremely resistant to heat and flames. This makes slate an excellent choice for roofing material because it reduces the likelihood of your property's roof catching alight in the event of a fire, helping to safeguard the wellbeing of you and your family.
Recyclable and Reusable
If you ever decide to change your slate roof or floor tiles, you can do so and recycle the slate. This has the added benefit of reducing energy consumption and carbon emissions. Additionally, you could reuse the slate elsewhere, such as to make decorative items or kitchen accessories. Check out our previous post about unusual uses for slate for inspiration.
Aesthetically Beautiful
If all the physical benefits aren't enough to convince you that slate is a great choice for a roof or floor, then perhaps the simple fact that slate looks beautiful will. One of slate's most vital attributes is the strong, compelling aesthetic value it adds to a building. Its naturally occurring colours, varying textures and grain can deliver a clean, sculptured and striking look. If you want to make a true statement in your home, slate tiles can do just that.
At UK Slate, we strive to exceed the expectations of our customers. We have years of experience in the slate industry and source only the very best slate, both domestically and globally. So if you're looking for
roofing slate tiles
or
slate flooring
, UK Slate has everything you need. Contact us today to find out more.
Slate is a popular material used for an array of designs for building construction, from roofing to flooring, to landscaping. As it is a natural material, slate is often hailed as one of the best materials to use in construction due to its abundance, heat-retaining properties and environmentally friendliness. Made from fine-grained metamorphic rock composed of sedimentary or volcanic ash deposits, it is a material which has been used for centuries.
Slate brings numerous benefits due to its remarkable durability and fire and water resistance, but what is it about slate that makes it so environmentally friendly?
Slate Transportation
As demand for slate has increased, suppliers have been opting to transport from abroad to source natural slates. There are various destinations around the world where natural roofing slates are transported to the UK, the most common being Spain, Brazil and China.
With this method, slates are transported via a 40-tonne articulated truck from the quarry to a designated port, where they are then shipped to the UK. Being transported via sea results in a cleaner and more efficient journey, reducing carbon emissions.
But there are also plenty of slate quarries in the UK, so they're right on our doorstep, reducing the distance needed for transportation. At UK Slate, we are based on the edge of the Lake District, an area known for its high-quality slate. We can provide you with both UK quarried slate and slate from across the globe.
Slate Manufacturing Process
According to data from the Inventory of Carbon and Energy, which looks at the amount of energy and carbon in a building material, natural slate makes the least environmental impact. There is very little manufacturing in the slate collection process, as it is handcrafted work from the quarry.
It also produces the lowest embodied energy, the energy required for manufacturing, transportation and the use of the product and waste product. Slate has the lowest carbon footprint due to the fossil fuel used to process it.
Other materials have more complex manufacturing processes with a higher environmental impact. Ceramic tiles, for example, need high-temperature processes in furnaces, meaning they consume lots of energy that the slate process does not.
Long-Lasting Material
Slate tiles have a long life that can withstand adverse conditions like heat, rain and wind. With proper care and maintenance, slate roofing can last well over a hundred years. In fact, supporting timbers are more likely to deteriorate before the slate tiles themselves. Your slate roof can resist severe wear and tear and protect your home from the surroundings.
With such a long-lasting material for your home, you won't have to worry about replacing your roof anytime soon, and you'll lessen your environmental impact by using a material that doesn't need frequent replacing.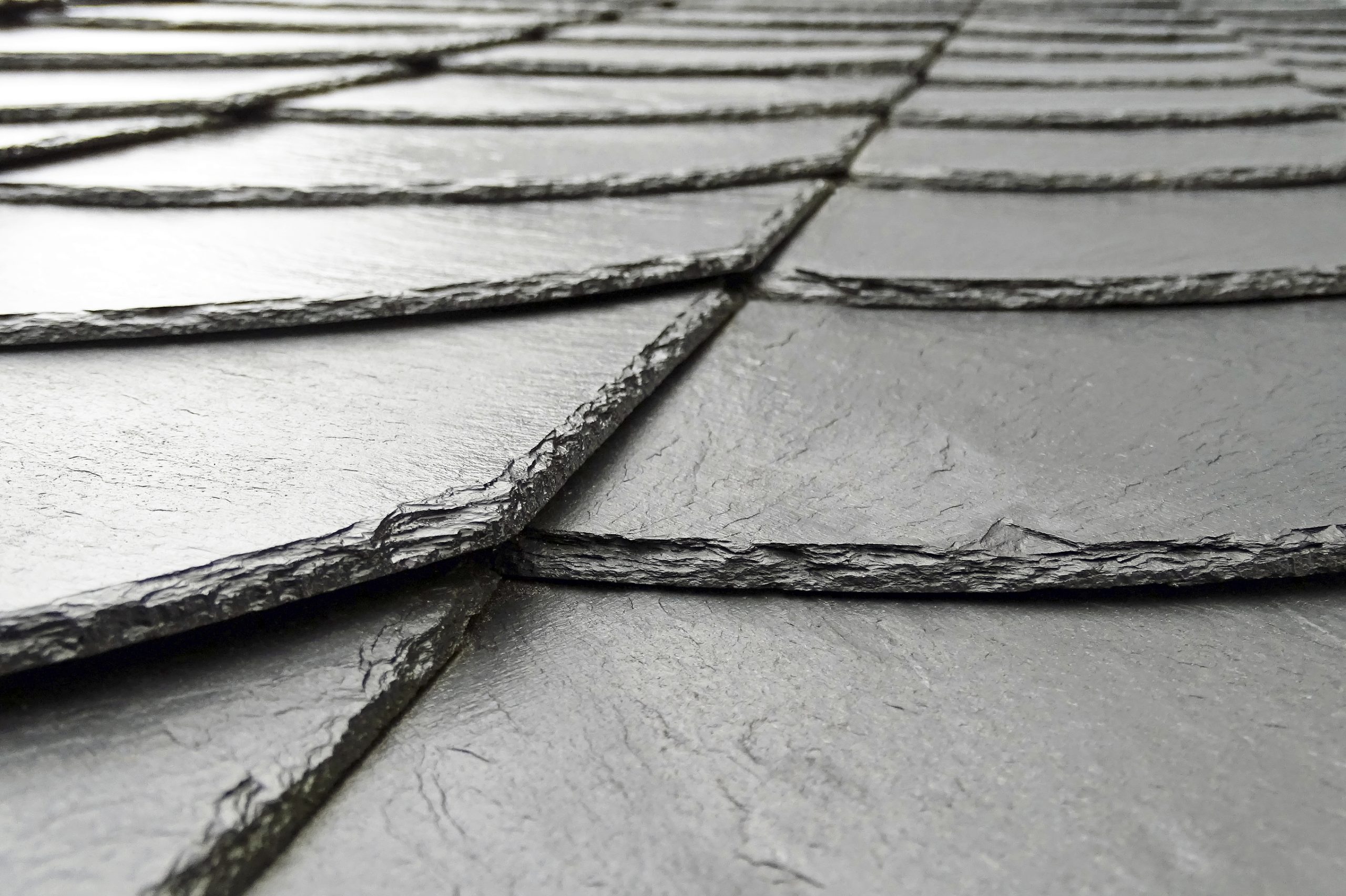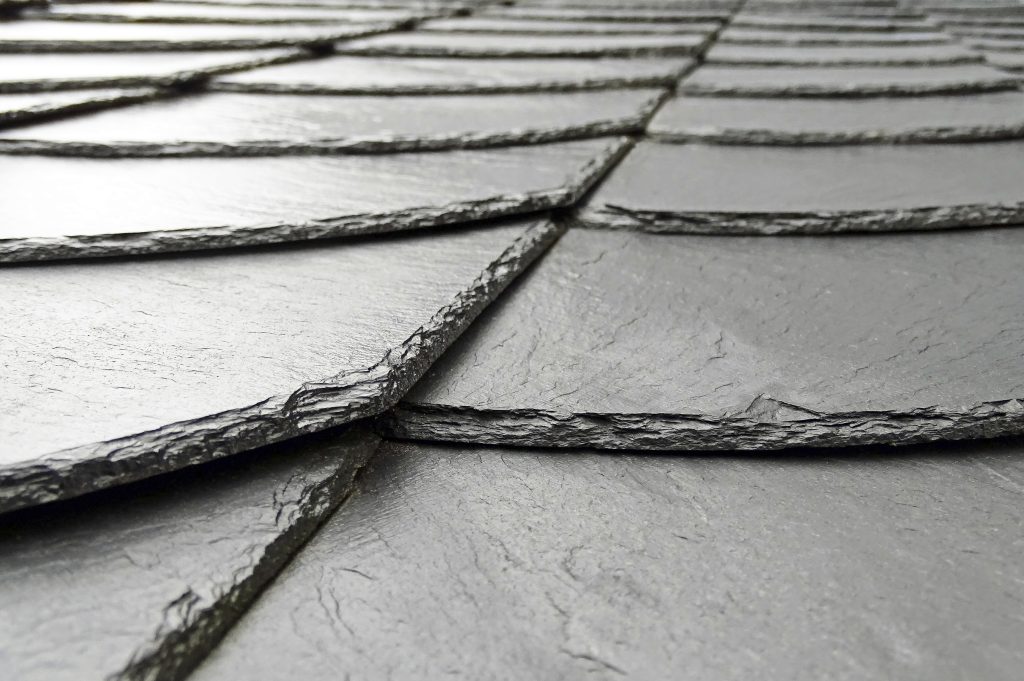 Slate is the Best Ecological Option
Throughout all the stages of its life span, natural slate will remain environmentally friendly. Due to this, it has become one of the best natural choices for sustainable buildings. Below, we have listed some reasons as to why natural slate is the best ecological option:
Natural – as slate is a mineral product, it is 100% natural. Its simple and efficient production process results in slate having a low environmental impact.
Reusable – natural slate is a material which can be easily recycled at the end of its life.
No chemical emissions – natural slate is subject only to extraction and working processes. As it does not need any artificial materials or chemical products, it makes slate a sustainable alternative for any project.
Durable – slate has a durability of over 100 years, making it the most resistant material used for roofing. Natural slate will perform better than any other roofing material.
By building a roof with natural slate material instead of fibre cement, it can avoid the creation of up to 6.2 tons of CO2 emissions. This is equivalent to the pollution created by an average car over 18,600 miles (30,000km).
There are numerous reasons and benefits which add up to natural slate being one of the most environmentally friendly materials used today. Here at UK Slate, we ensure we are constantly able to source the very best slate from around the globe. We pride ourselves on meeting and exceeding your expectations. With all our years of experience, we can source you the best slate domestically and from about the globe, and we offer national and international delivery so we can get to you wherever you are.
If you would like to know more about our products and services, get in touch with us today by calling 015395 59289 or emailing info@slate.uk.com and we will be happy to help.